Pacific Alliance, under Chilean presidency will speed closer links with Mercosur
- 29/06/2016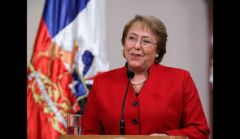 Chile is scheduled to take the pro tempore presidency of the Alliance (Peru, Colombia Mexico and Chile) next July, in a presidential summit which is to take place in Frutillar, south of the country.
Previous to the summit to which has been especially invited by Chilean president Michelle Bachelet, her Argentine peer Mauricio Macri, there will be a business forum to promote trade and investment.
"The Pacific alliance is a priority integration project of Chile's trade policy. With only five years in construction, the Alliance has obtained many successes, and has a great potential", said Rebolledo.
He added that President Bachelet will concentrate in advancing in the areas of goods, services, people and capital movements, and will try to make the most of the Trade Protocol which became effective last May first, which means basically lower tariffs.
Likewise Bachelet will continue to push for the Pacific alliance to keep expanding in the Asia/Pacific basin markets, as well as with the 49 observer countries and the rest of Latin America, thus the significance of approaching Mercosur.
Paraguay and Uruguay, Mercosur members are already observers of the Pacific Alliance, and now Argentina has joined.
Macri will be attending the summit in Frutillar together with the president of Costa Rica, Luis Guillermo Solís, a country which most probably, very soon with become the fifth member of the alliance.
MercoPress